DC PAWS relies on volunteers to rescue, find homes and save homeless dogs and cats from rural, under-resourced counties and areas. Meet some of those amazing people who help us make it all happen.
This week: Jong Kim, volunteer since May 2015, a cat foster, driver, handler and so much more. Not only does Jong foster our kittens and cats, she also visits the animals fostered at PetValu in Clarksburg, Md., where she makes sure they are fed and kept clean. We're honored to recognize Jong as our April 2016 Volunteer of the Month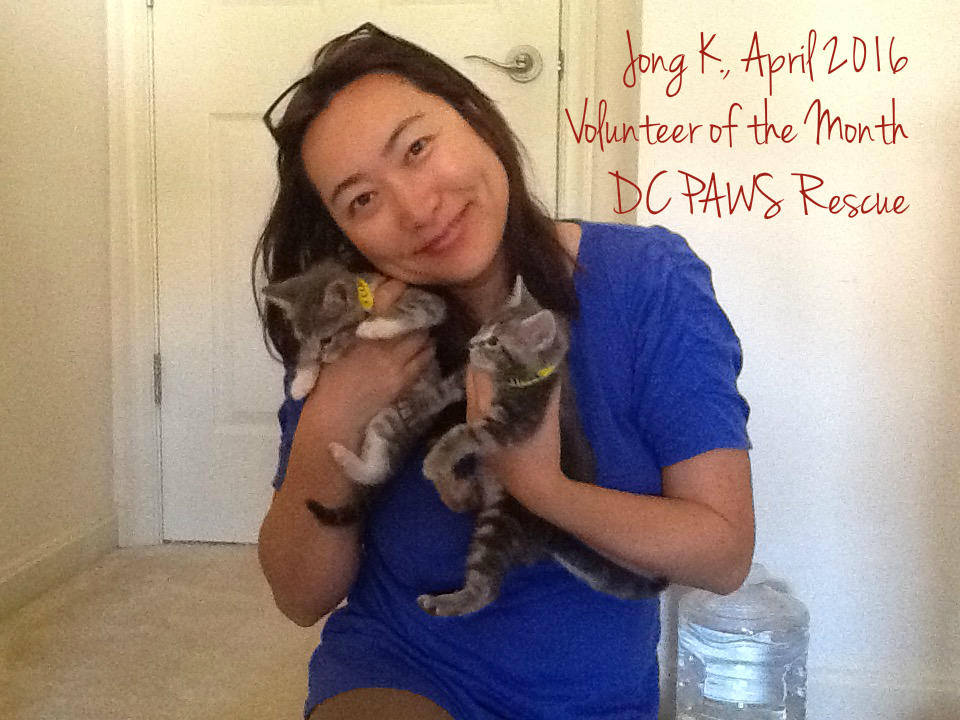 How did you learn about DC PAWS Rescue?
I learned about DC PAWS Rescue through my good friend Stella. She's always been involved in some kind of volunteer organizations to save many rescue animals, especially dogs.  Now she's a volunteer for DC PAWS Rescue.  
Tell us about your family (including your own animals):
I live in Clarksburg with my boyfriend, Ward, and two cats, Kibo and PG, who are rescued cats.  I had a cat growing up in Korea, sort of. She was a stray cat who one day showed up at the front door so we fed her scraps.  Every once in awhile she showed up for food, and we played sometimes. We named her Arewa.
It was a different time in Korea back then, not too many people had a concept of having cats and dogs as pets. So we had many stray cats and dogs but no one would rescue them.  And I thought that was a norm.  Arewa had five kittens in our kitchen a few weeks before we were heading to the United States. We gave away kittens to our relatives.
Now living in the United States, I learned more about adopting rescued animals, but never adopted one until I met Ward.  He always had either dogs or cats for the past few decades.  He convinced me to adopt a cat, which I was a little reluctant at first, mainly because of the pet hair.  I didn't want to be one of those people who wears cat hair all over their clothes. Nonetheless, I got two kittens via Petfinder.  
It was the best decision I've ever made.  The joys and happiness they bring to my life — I wish I had that opportunity earlier in my life.  PG is a tuxedo female cat who pooped all over my house the day I brought her home. It was my fault that I did not had a litter box ready in time.  Hence the name PG, short for  "Poopy Girl." Kibo was was so skittish back then I barely saw him for three days after I brought him home.  However he turned out to be the most affectionate, playful and loving cat…still skittish.  
What do you foster for DC PAWS?
I decided to foster for DC PAWS when Stella showed me the photos of kittens needing a foster.  It was love at first sight. Who doesn't love kittens? She didn't have to pursue me too long to foster Elinor and Marianne (the Dashwood kittens). These kittens were rescued by DC PAWS rescue, but even if they were from other rescue organization, I'd have still fostered.  
I think no matter what rescue organizations, they all have one purpose, saving lives of neglected, abused and abandoned dogs and cats.  I just had an opportunity to be involved with DC PAWS through a good friend.
What is the most rewarding part of fostering for you?
Besides the satisfying feelings of saving lives of animals from a 99 percent-kill shelter, you get to play with adorable kittens every day. Ward and I got lucky to foster the Dashwood kittens for few months, just fall in love with them and play.  
What was your role in getting your foster animals adopted?
My role in getting my kittens adopted was minimum. In other words, there's no pressure to get involved in tedious paperwork or any other processes, at least not for me.  There are other volunteers who do a great job screening the application forms, interviewing the potential applicants and performing home visits. I volunteered to do a home visit for the potential adopters for my kittens, which involves e-mail exchange and visiting their home.  Also, taking foster cats to the adoption events when possible.
What would you say to someone who is considering being a foster?
Just do it!  Every time I watch an ASPCA commercial, I always want to do something for those poor animals but when the commercial is over, I just forget about it all together. While the monetary donation is always good, fostering is the one way to reach out to those cats and dogs who need help.    
Any other thoughts you'd like to share or advice for new fosters?
Welcome new fosters! You will absolutely love it.
Ready to volunteer with DC PAWS just like Jong? Here's how to get started.