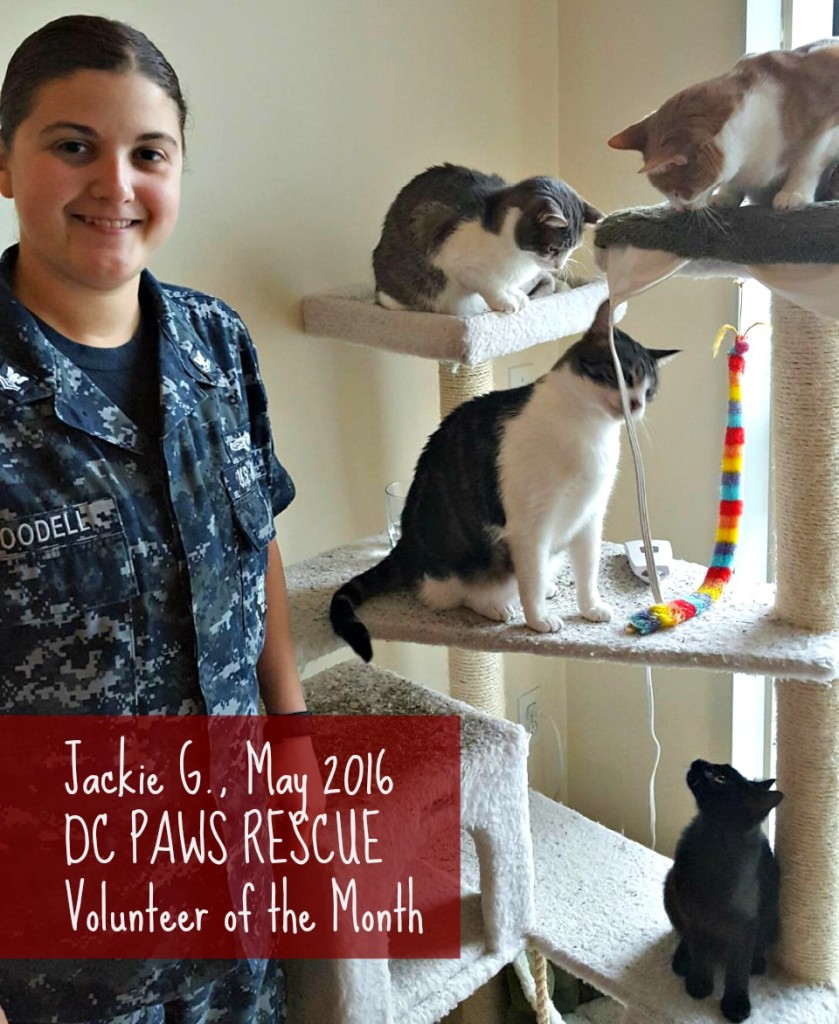 DC PAWS relies on volunteers to rescue, find homes and save homeless dogs and cats from rural, under-resourced regions. Meet some of those amazing people who help us make it all happen. This month: Jackie Goodell, a volunteer since October 2015 who has jumped in to help out to drive animals to events, handle them, assist with event planning, and most recently fostered a cat for the weekend. We're honored to recognize Jackie as our May 2016 Volunteer of the Month.
How did you learn about DC PAWS Rescue?
When I first checked into my new command I asked my sponsor about where to find volunteer opportunities and she told me about volunteermatch.com. I went and found the posting by DC PAWS and signed up!
Tell us about your pets:
I have three extremely spoiled kitties here in DC, and I grew up with a cat and a dog.
Why do you volunteer with DC PAWS Rescue?
I enjoy the way the organization is run, and the other volunteers are fantastic people so it's very easy to stay with this group. It's something extra to look forward to on the weekends. Plus, getting to play with doggies like Minion, of course!
What is the most rewarding aspect of volunteering?
Being the voice, the advocate, and the protector of these animals who were once fighting for survival. Showing them love and affection and drawing their personalities back out and most definitely seeing all those adoption emails!
What was your role in helping animals find their forever homes?
I volunteer as a handler at adoption events and help with transports to administer Capstar to the kitties and walk the dogs before handing them to their fosters/adopters. I hope to become an event and adoption coordinator after I return from my upcoming deployment. I'm also doing my first weekend foster, and it's certainly very, very interesting.
What would you say to someone who is considering volunteering for DC PAWS?
I would tell them to absolutely go for it! The guys in my shop are always asking about ways to volunteer and so I get to tell them about Paws. So far, I've gotten three of them out to events 🙂
Any other thoughts you'd like to share about volunteering?
This has been the most rewarding experience and I'm so very thankful to be a part of DC PAWS. I look forward to the next few years and all the animals we get to rescue!
Ready to volunteer with DC PAWS just like Jackie? Here's how to get started.